Starting February 1st, 2022, globally, WhatsApp is switching from a notification-based pricing model to a conversation-based pricing model.
What is changing?
Starting 1st February 2022, WhatsApp is moving from a per template/session charge to a complete conversation-based model. The message charges will apply based on who initiated the conversation – the business or the user.
The new pricing model- Conversation Based
The new pricing model is based on who initiates a conversation. There are two kinds of conversations that are priced differently:

User-initiated: These are conversations where a user messages a business. When a business replies to this message within a 24-hour window, it is counted as a user-initiated conversation. Businesses can send free-form messages within this 24-hour window.

Business-initiated: These are conversations where a business gets in touch with a user. These business-initiated conversations will require a message template.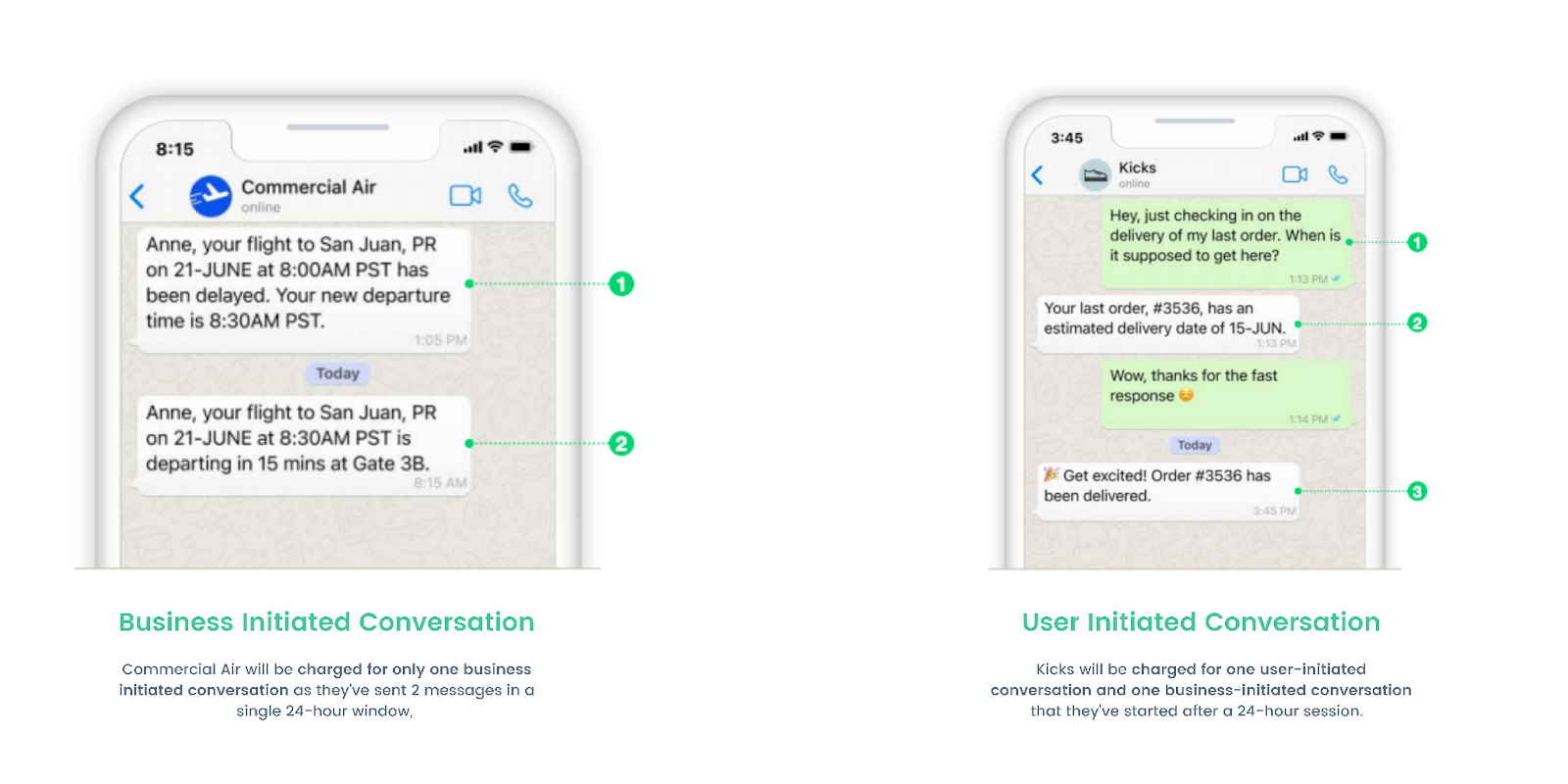 All conversations are measured in fixed 24-hour sessions. A conversation starts when the first business message in a conversation is delivered, either initiated by the business or in reply to a user message.

Businesses and users can exchange any number of messages, including template messages, within a 24-hour conversation session without incurring additional charges. Each 24-hour conversation session results in a single charge.
What should businesses do to get the most out of the new pricing model?
1. If you use Whatsapp for customer support, try to resolve queries as soon as possible. You can use WHATSTOOL's Multi-Agent Dashboard For WhatsApp to manage your customer support efficiently. If your support team has limited work hours, consider building a WhatsApp Chatbot that'll help in solving basic support queries on WhatsApp.

2. If WhatsApp is your primary marketing channel, you will need to focus on providing value to your customers through your notifications. This will go a long way in creating a favourable customer experience as well.
What does it mean for your business?
Businesses Sending Frequent Notifications: If you send multiple Broadcast messages on WhatsApp within a 24-hour period, you will only pay for a single conversation per user for starting the conversation.

Businesses Sending Infrequent Notifications: If you are sending messages over multiple 24-hour periods, you will now pay for each conversation based on business-initiated conversation pricing.

Customer Support On WhatsApp: If you are responding to incoming user-initiated messages, then you will be charged according to the user-initiated conversation-based charges.

It is clear that Meta (Facebook) wants businesses to use WhatsApp as a two-way communication tool to help solve issues. They want to keep it as a channel where customers can easily reach out to brands for a quick resolution.
They also want to keep the conversations relevant and discourage too many notifications from brands. This move will go a long way in establishing WhatsApp as a trusted medium of brand communication and improve the customer experience in the bargain.
Read Other Blogs - View​